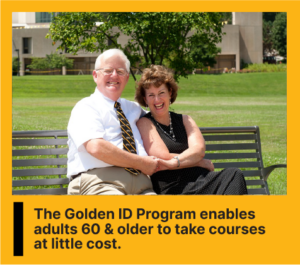 If you are looking to further your education for personal enrichment, are 60 years young, retired, and not working full-time, then you may be eligible for the Golden ID Program. The Golden ID Program permits Maryland residents 60 years of age and older to take graduate courses at little cost. Golden ID students will be responsible for paying some fees, while tuition is waived.
Qualified individuals may apply as degree-seeking, post-baccalaureate certificate, or non-degree seeking students. To apply, follow the same instructions for degree, certificate, and non-degree applicants.
---
Eligibility Requirements
To be considered for Golden ID status, you must submit an application for any qualifying graduate program. After submitting the application, you will be emailed with more information regarding the Golden ID Program and the process to review your eligibility. If you have questions regarding eligibility, you may call our office during business hours at 410-455-2537 or email us directly at GradSchool@umbc.edu.
---
Please Note – The following programs and all courses within these programs are not available to students utilizing Golden ID benefits:
Online Master of Science in Information Systems
Online Master of Arts in Teaching English to Speakers of Other Languages
Master of Arts in Learning and Performance Technology and related Certificate programs:

eLearning
Instructional Systems Development
Instructional Technology
Learning and Performance Technology

Master of Science in Engineering Management or Systems Engineering
Master of Arts in Education or Management of Aging Services
Master's in Professional Studies with any of its tracks

Biotechnology
College Teaching and Learning Science
Community Leadership
Cybersecurity
Data Science
Entrepreneurship Innovation & Leadership
Geographic Information Systems
Health Information Technology
Industrial/Organizational Psychology
Integrated Product Development and Manufacturing
Project Management
Technical Management
The preceding exclusions also apply if the student is pursuing a Post-Baccalaureate Certificate or not pursuing a degree. UMBC reserves the right to exclude other programs from Golden ID eligibility.