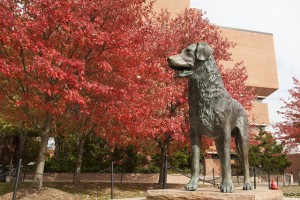 UMBC reflects the future of research universities. Young and dynamic, the university is small enough to provide personal attention, yet large enough to provide a rich and diverse experience. Collaboration isn't just a buzz word here — it's a way of life among our faculty and students who take full advantage of the wealth of opportunities and meaningful partnerships this region has to offer.
With 39 master's degree programs, 24 doctoral degree programs, and 23 graduate certificate programs, UMBC seeks to provide you with an enriched experience drawing upon leading scholars attracted to a campus that prides itself on diversity and multiculturalism. UMBC graduate students come from 45 states and over 100 countries, who go on to careers in such fields as information technology, university teaching and research, mental health delivery, arts, education, business, industry, government, and policy making.
Collaboration and Opportunity

UMBC is ranked as a Doctoral/Research University (High Research Activity) by the Carnegie Foundation, one of the highest classifications for a research university in the U.S. UMBC is a major center for graduate education and research. Graduate students work closely with faculty, whose funding sources include the National Institutes of Health, the National Endowment for the Humanities, the National Endowment for the Arts, the National Aeronautics and Space Administration, the National Science Foundation, the National Institute of Standards and Technology, the U.S. Department of Education and the state of Maryland. Opportunities for interdisciplinary collaboration are encouraged through UMBC's 30-plus research centers and institutes.
Alumni Success
UMBC's graduate alumni are doing amazing work all over the globe, from engineering the future of digital technology at Apple and Google, to examining the complexities of social and economic issues in our communities, to challenging the ways we understand art and culture, and even leading other universities. Read more about terrific Retriever alumni in UMBC Magazine, and in the Graduate School Digest.
All That's Missing… is You
UMBC is a very special place; its position among the great American research universities is just unfolding. We invite you to learn more about the achievements of this vibrant community and how you can share in the distinction of being a graduate of UMBC.