Enrollment
Graduate students comprise a significant portion of our student body.  In the Fall of 2020, the Graduate School enrolled 2,565 students, of which 25% were international students, 49% were women, and 26% were domestic students from minority populations.
The UMBC community is proud of our culture of inclusion, ingenuity, and innovation.  UMBC is committed to diversity and takes great pride in being recognized as one of the nation's most diverse universities.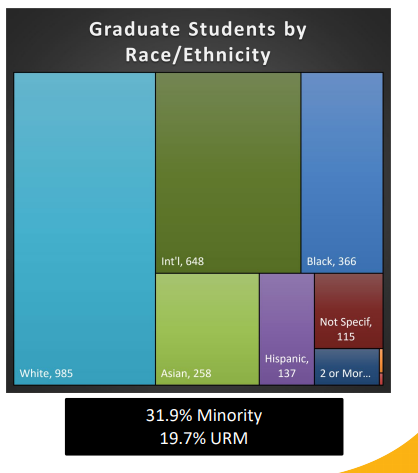 ---
Graduate Assistantships
Graduate Assistants (GAs) are graduate students pursuing an education while at the same time getting great experience as research or teaching assistants, or working in an administrative capacity on campus.  GAs at UMBC are able to fund a significant part of their education through their assistantship.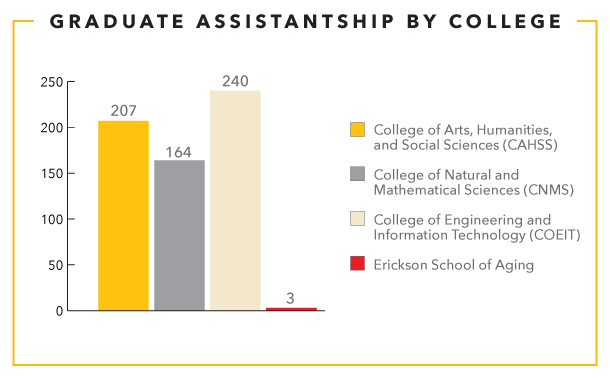 Back to Top
---
Research
UMBC's research environment is rich with opportunity to collaborate, innovate, and examine ways of addressing the world's environmental, technological, political, economic and social challenges. Classified by the Carnegie Foundation as a Doctoral University with Higher Research Activity, UMBC annual research portfolio is over $80 million, a remarkable achievement in just 50 years of existence. We are rapidly growing more successful partnerships with federal and state agencies, foundations and the private sector, to create a space where our students, faculty, and alumni can make a difference through their work.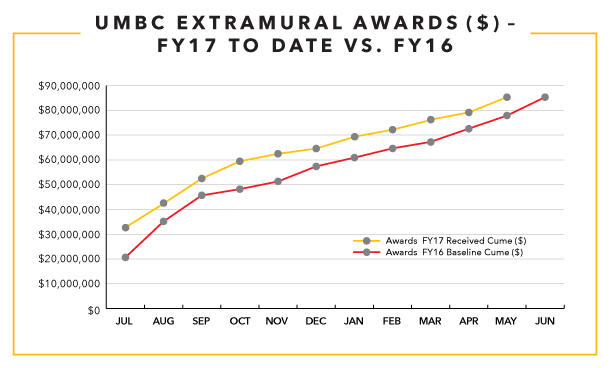 Research Headlines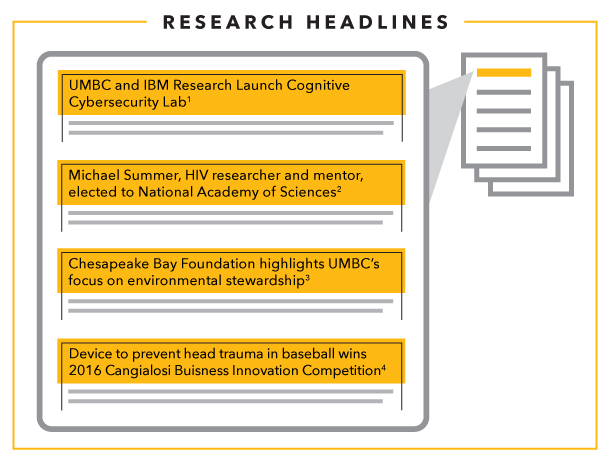 1. UMBC and IBM Research Launch Cognitive Cybersecurity Lab
2. Michael Summers, HIV researcher and mentor, elected to National Academy of Sciences
3. Chesapeake Bay Foundation highlights UMBC's focus on environmental stewardship
4. Device to prevent head trauma in baseball wins 2016 Cangialosi Business Innovation Competition
---
Professional Development
Success in graduate school is not a solo performance.  At the Graduate School, we emphasize collaborations and partnerships that connect our graduate students with local, national, and international leaders in various fields.   We offer support programs that address degree completion, finances, career pathways, research, and work/life balance to name a few.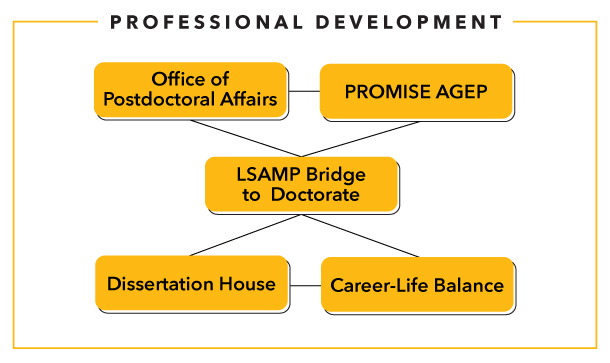 Back to Top
---
Graduates